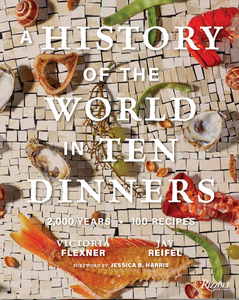 WED SEP 20 / A Book Party for A HISTORY OF THE WORLD IN TEN DINNERS with authors Victoria Flexner and Jay Reifel
Regular price $55.00 Sale
6p to 8p
Join us as we celebrate the new cookbook from the duo behind the Brooklyn-based supper club Edible History, authors Victoria Flexner and Jay Reifel. A History of the World in 10 Dinners: 2,000 Years, 100 Recipes explores, in ten chapters, an important moment in food history. From Ancient Rome to Al-Andalus in Spain, from the Ethiopian Empire to nineteenth-century New York City. 
Expect a casual chatty atmosphere with sweet, (precious lil) historical snacks from Chef Jay, a chat with the authors to start around 6:45, a Q + A with all of you, and book signing.
This event is free. Books, beer, and wine are for sale.
In short, come have a snack, meet the authors, and head home with treasure!

About the book:
For every lover of food culture, this scrupulously researched and accessible cookbook presents one-of-a-kind dinner parties inspired by seminal moments in culinary history. In ten chapters—each an important moment in food history, from Ancient Rome to Al-Andalus in Spain, from the Ethiopian Empire to nineteenth-century New York City—the authors pair menus with immersive retellings of historic culinary breakthroughs, and present the ingredients and modern techniques adapted for today's kitchens to allow cooks of all abilities to entertain with dishes that were created and enjoyed hundreds of years ago but remain relevant to today's food tastes and values.  

Readers learn to orchestrate feasts from Apicius, blend spices from the Silk Road, feature indigenous ingredients of the Americas, revisit the "classics" from the Court of the Sun King, and savor the complex delicacies from the birth of the American restaurant scene. The home cook can prepare an entire seven-course Tudor feast, for example, or pick and choose dishes from around the world throughout time. Rich illustrations, hand-drawn maps, and contemporary photography create an immersive experience, while Harris's foreword puts these historic foodways and their legacies into contemporary context.
VICTORIA FLEXNER   ◤  is a food historian and the founder of Edible History. She holds a degree in History from the University of Edinburgh in the United Kingdom and a Masters in Historical Studies from The New School in New York City. She writes, lectures and hosts historical dinners around Brooklyn and beyond.

JAY REIFEL   ◤ has a background in fine dining, classical pastry, and has a deep love of history, especially as it relates to food and culture. He has baked bread with schizophrenics, and written everything from one liners to questionable science fiction. In his culinary career, he has worked with food scientists, historians, and translators, eaten everything from pig's brains to live insects, learned from all of them (and thinks you should too).

We can't wait to see you! Email information@archestrat.us with questions. Unfortunately, we can't give refunds, only exchanges. We do not give Covid refunds. Thanks for your understanding.