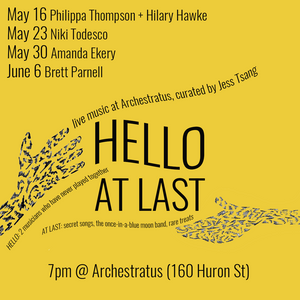 TUES JUN 6 at 7p / hello/at last: first encounters and long awaited returns
7p

hello/at last is a concert series at Archestratus curated by percussionist/improviser Jess Tsang.
The first set, "hello", features two brilliant musicians who have never played together before. Then, a long, long pause to hang out, to eat snacks and drink beautiful beers and wine. The last set, "at last", is a celebration of that thing your friend did once that you've never forgotten, the secret songs, the once-in-a-blue moon band, lightning striking twice.


Set List:

30 min - hello (can't say who this is!)

30 min break

45 min - at last, featuring Brett Parnell 




JESS TSANG
is a percussionist, researcher, and improviser dedicated to the creation of new interdisciplinary works. She is endlessly examining how objects shape our lives, and how that might be translated into music. A founding member of guitar and percussion duo party of one, Jess is also the founder of listenbeer, a series of multi-sensory concert experiences merging craft beer with experimental music. Jess has participated in residencies at the Banff Centre, The Hambidge Center, OneBeat, and Residência São João. Her debut album, sound shadows, was released with madefor Records in 2021.