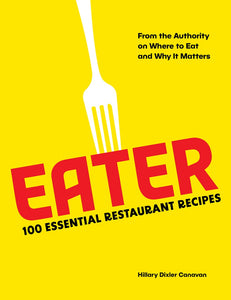 TUES SEP 19 / EATER: 100 ESSENTIAL RESTAURANT RECIPES from the authority on where to eat and why it matters with Hillary Dixler Canavan and Stephanie Wu
6p to 8p
Join us as we celebrate the new cookbook from restaurant editor Hillary Dixler Canavan of the food and dining culture brand Eater and its dedicated team of experts.
Finalamente! All the must-eat recipes via the most popular influential restaurants across the country have now been compiled into one shiny new cookbook made for all of us. 
Expect a casual chatty atmosphere with a conversation between Hillary Dixler Canavan and Stephanie Wu (Editor-in-Chief of Eater) to start at 6:15, a Q + A with all of you will follow, and, to end, a book signing.
Arrive early for a special toast with Eater!
This event is free. Books and drinks are for sale.
In short, come have a drink, meet the authors, and head home with treasure!

About the book:

Eater's dedicated team of on-the-ground experts live to drink, dine, and let you know what's great, and the leading media brand's debut cookbook includes the dishes that diners can't stop thinking about, from the chefs and restaurants that have shaped our food culture. Sourced from the best street carts to pillars of fine dining and everywhere in between, this diverse, powerhouse collection features recipes that have been carefully adapted for home cooks.
You'll be able to make lobster rolls like those from the quintessential Maine seafood shack McLoons, master the best migas in Austin care of Veracruz All Natural, perfect your pizza-making skills with help from Jon & Vinny's and Una Pizza Napoletana, sip a martini as good as the one from iconic New York piano bar Bemelmans, bake Birmingham pastry chef Dolester Miles's legendary cobbler, and much more.
Also packed with expert advice from chefs, bartenders, and sommeliers on easy ways to level up your meals at home—whether it's building a celebration-worthy seafood tower, using a jar of chili crisp to quickly add depth of flavor to your cooking, sourcing game-changing ingredients and tools, or pairing sake with any kind of food—Eater: 100 Essential Restaurant Recipes From the Authority on Where to Eat and Why It Matters is a must-have for anyone who loves to dine out and wants to bring that magic home.
HILLARY DIXLER CANAVAN  ◤  is Eater's restaurant editor. She worked her way up through the New York City restaurant scene before landing at Eater in 2013. As part of the publication's award-winning editorial team, she defines the scope of Eater's national restaurant coverage and leads major initiatives including the Best New Restaurant list. She lives in Los Angeles with her husband and daughter.
STEPHANIE WU   ◤ is the editor in chief of Eater. She has previously held editorial roles at Condé Nast Traveler, Mic, Travel + Leisure, and Town & Country. She is the cofounder of MochiMag, a publication dedicated to amplifying Asian voices. She grew up in Taipei, Taiwan, and now lives in New York City with her family.

We can't wait to see you! Email information@archestrat.us with questions. Unfortunately, we can't give refunds, only exchanges. We do not give Covid refunds. Thanks for your understanding.