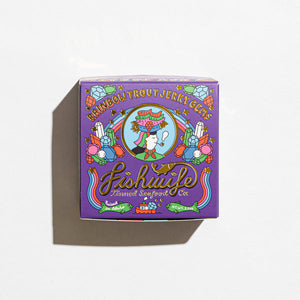 Fishwife Rainbow Trout Jerky Gems
Regular price $13.99 Sale
Net Weight: 3.5 oz
From Fishwife:
Say hello to our Rainbow Trout Jerky Gems, the first tinned seafood product to feature the tenderloin of the rainbow trout.
Because of it's teeny tiny size, the rainbow trout tenderloin (the trout's most prime cut!) doesn't have a place on a seafood counter or a restaurant plate. We're thrilled to find the perfect home for these beauties in our tins, and in doing so, help utilize 100% of the rainbow trout and reduce food waste.
Our smoked rainbow trout is:
✨ Sourced from the first and only ASC-certified trout farm in America.
✨ Smoked in small batches over a mix of beech, maple, and birch wood, hand-packed, and canned by fifth-generation family-run cannery on the central coast of Washington.
✨ Raised in pure Idaho spring water, always without the use of preventative antibiotics, growth hormones, or genetic engineering.
✨ Has 62x less mercury than the FDA's allowable standard.

Our cans are BPA-free.
Ingredients: Rainbow Trout (Fish) Extra Virgin Olive Oil, Lemon Pepper Seasoning (Lemon Peel, Black Pepper, Organic Garlic, Organic Marjoram), Organic Cane Sugar, Salt, Organic Garlic Powder, Organic Onion Powder
Please note: This product may contain small bones. These are edible and a terrific source of calcium!