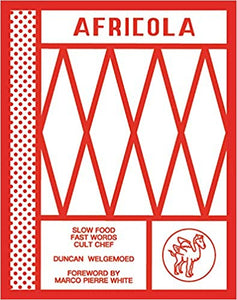 Africola Slow Food Fast Words Cult Chef by Duncan Welgemoed
Regular price $34.00 Sale
Hardcover
The number of tourists travelling to South Africa in the last decade has steadily risen year upon year, with 16 million visiting in 2019 alone. People are drawn to the country by the culture, landscape and more often than not, the impressive cuisine which reflects nourishment, survival and love.

Wanting to acknowledge his heritage, and frustrated by the tunnel-vision of Michelin star cooking, Duncan has created Africola to encompass the rich and varied flavours of his childhood with a fearless, daring approach.

The food which Duncan cooks is all about using sustainably sourced, low-impact-on-the-earth ingredients (carefully sourced meats, fish, vegetables, grains, pulses, seaweed, algae, shellfish) to create dishes that 'open another box in your palate and in your mind'. There is a slew of intensely flavourful, veg-forward dishes, a culinary encyclopaedia of ferments, condiments and pickles along with a solid pastry section and a bunch of ridiculous cocktails.

With a soundtrack to accompany the cooking, Africola is nothing short of unique, with bold recipes and raw enthusiasm to inspire every chef from amateur to professional.