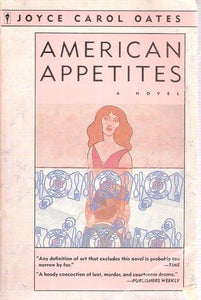 American Appetites by Joyce Carol Oates
Paperback
Finally returned to print in a beautiful new trade paperback edition, American Appetites is classic Joyce Carol Oates—a suspenseful thriller in which the happy facade of an affluent suburban couple crumbles under the weight of tragedy and scandal.
For twenty-six years, Ian McCullough, a demographics researcher at a social science think tank, has been happily married to Glynnis, a successful cookbook writer and a brilliant hostess.
When a drunken argument about a suspected infidelity turns physical, Ian accidentally pushes Glynnis through a plate glass window—or did she fall? Now, Glynnis is dead, Ian is charged with murder, and their American dream is shattered. And soon, in a courtroom where guilt and responsibility become two very separate issues, Ian will stand trial, fighting for his life.
A sophisticated, witty, and chilling novel from the incomparable Joyce Carol Oates, American Appetites explores our insatiable hunger for power, love, and success, and how comfortable, privileged lives—and the course of fate—can be dramatically transformed in an instant.