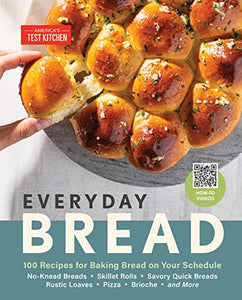 America's Test Kitchen Everyday Bread 100 Recipes for Baking Bread on Your Schedule by America's Test Kitchen
Regular price $35.00 Sale
Hardcover
Bread baking made convenient? Yes!
Introducing the only cookbook to make homemade bread baking convenient by letting you choose what to do and when. Learn seven core failproof recipes that offer pauses in prep and baking tasks, and then manipulate the dough into different shapes and flavors with ease for a practically endless array of breads. 
A flexible, customizable timetable on recipe pages fit hands-on and hands-off tasks into your schedule. Looking to get bread on the table tonight? Spreading steps over a few days? Recipes enable both paths, with new streamlined techniques and no specialty equipment needed; many recipes bake in a Dutch oven (a cast-iron bread oven works, too). And there are plenty of loaves with no yeast, kneading, or shaping required. Another way we ensure your success … 20 QR codes in the cookbook link to online how-to videos so you can watch a test cook move through key steps.