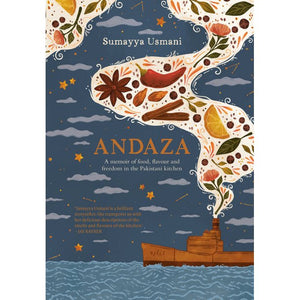 ANDAZA: A Memoir of Food, Flavour and Freedom in the Pakistani Kitchen by Sumayya Usmani
Regular price $41.99 Sale
Hardcover
Award-winning food writer Sumayya Usmani's stunning memoir conjures a story of what it was like growing up in Pakistan, of her displaced childhood as she travelled at sea, and how trusting her instincts in the kitchen allowed her to navigate life's challenges.

From a young age, food was Sumayya's portal to nurturing, love and self-expression. She spent the first eight years of her life at sea, with a father who captained merchant ships and a mother who preferred to cook for the family herself on a tiny electric stove in their cabin rather than eat in the officer's mess. When the family moved to Karachi, Sumayya grew up torn between the social expectations of life as a young girl in Pakistan, and the inspiration she felt in the kitchen, watching her mother, and her Nani Mummy (maternal grandmother) and Dadi's (paternal grandmother) confidence, intuition and effortless ability to build complex, layered flavours in their cooking.

This evocative and moving food memoir – which includes the most meaningful recipes of Sumayya's childhood – tells the story of how Sumayya's self-belief grew throughout her young life, allowing her to trust her instincts and find her own path between the expectations of following in her father's footsteps as a lawyer and the pressures of a Pakistani woman's presumed place in the household. Gradually, through the warmth of her family life, the meaning of 'andaza' comes to her: that the flavour and meaning of a recipe is not a list of measured ingredients, but a feeling in your hands, as you let the elements of a meal come together through instinct and experience.