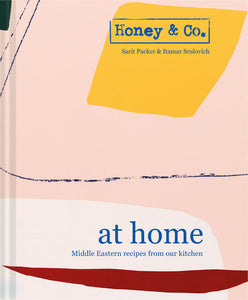 At Home Middle Eastern Recipes from our Kitchen by Honey & Co. Itamar Srulovich & Sarit Packer
Regular price $35.00 Sale
Hardcover
Brought to you by the award-winning chefs behind the Honey & Co. empire, this book presents simple and delicious Middle Eastern dishes that are easy to make, and a pleasure to serve.

"Just the sort of food I want to eat: welcoming, abundant, and with as much heart as flavor." -- Nigella Lawson

From breads to bakes, salads to sweets, there is something for everyone in this celebration of Middle Eastern cooking. Wholesome, fresh, and seasonal ingredients are organized into chapters For Us Two, For Friends, For the Weekend, For a Crowd, and For the Kitchen. Enjoy authentic recipes like Jerusalem sesame bread filled with harissa and lemon chicken, tuck into a crisp salad with saffron-poached pears with walnut tahini, or delight in a fish pastille, among many more.

The mouthwatering recipes are quick and simple to make. Whip them up for lunch or a weekend meal
without forward planning, special ingredients, or fancy equipment--these will quickly become staple recipes that you will revisit again, and again.

Packed full of stylish photography, this book takes Sarit and Itamar out of the restaurant kitchen and into their home. The recipes and surrounding stories are written from the heart with affection for the food they love.