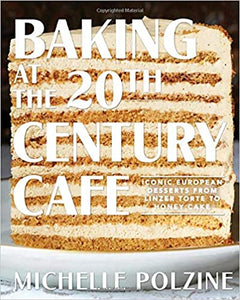 Baking at the 20th Century Cafe Iconic European Desserts From Linzer Torte to Honey Cake by MIchelle Polzine
Regular price $35.00 Sale
Hardcover
"Dazzling. . . . [Polzine] brings a fresh approach and singular panache. . . . Her clear voice and precise, idiosyncratic instructions will allow home bakers to make exquisite fruit tarts with strawberries and plums, elegant cookies and layer cakes."
—Emily Weinstein, New York Times, The 14 Best Cookbooks of Fall 2020

"This book . . . just keeps on giving. An absolute joy for bakers."
—Diana Henry, The Telegraph (U.K.), The 20 Best Cookbooks to Buy This Autumn

Admit it. You're here for the famous honey cake. A glorious confection of ten airy layers, flavored with burnt honey and topped with a light dulce de leche cream frost­ing. It's an impressive cake, but there's so much more. Wait until you try the Dobos Torta or Plum Kuchen or Vanilla Cheesecake.

Throughout her baking career, Michelle Polzine of San Francisco's celebrated 20th Cen­tury Cafe has been obsessed with the tortes, strudels, Kipferl, rugelach, pierogi, blini, and other famous delicacies you might find in a grand cafe of Vienna or Prague. Now she shares her passion in a book that doubles as a master class, with over 75 no-fail recipes, dozens of innovative techniques that bakers of every skill level will find indispensable (no more cold but­ter for a perfect tart shell), and a revelation of in­gredients, from lemon verbena to peach leaves.

Many recipes are lightened for contem­porary tastes, and are presented through a California lens—think Nectarine Strudel or Date-Pistachio Torte. A surprising num­ber are gluten-free. And all are written with the author's enthusiastic and singular voice, describing a cake as so good it "will knock your socks off, and wash and fold them too."

Who wouldn't want a slice of that? With Schlag, of course.