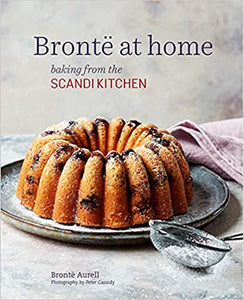 Bronte at Home: Baking from the Scandikitchen by Bronte Aurell
Regular price $19.95 Sale
Hardcover
Brontë Aurell shares her love of home baking and welcomes you to experience the warmth of her kitchen with this comforting collection of bakes and treats from Scandinavia.

From a batch of buns to a show-stopping Othello layer cake, Brontë's recipes inspire the feelings of pure delight that baking at home can bring. Try Brontë's Daim Cookies—wonderfully gooey and filled with pieces of chocolate-coated almond toffee. The Trays and Rolls chapter includes super-soft Rye Flat Rolls and Lemon and Blueberry cake. Try one of the Everyday Cakes such as Mamma Lena's Apple Pie or Tosca cake, a love story between almonds and buttery caramel. Brontë introduces Fancy Fika and Celebration Cakes including a truly delicious Rye Layer Cake with Cherries or the indulgent Mini Licorice Pavlovas, Cremelinser, and Éclair with Marzipan. There are recipes for buns, breads, and crispbreads, as well as a host of treats sure to fill you with all the joy of home baking.

Bronte at Home is a compilation of previously published favorites plus a host of new recipes.