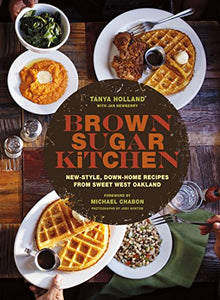 Brown Sugar Kitchen: New Style, Down-home Recipes from Sweet West Oakland by Tanya Holland
Regular price $29.95 Sale
Hardcover
Brown Sugar Kitchen is more than a restaurant. This soul-food outpost is a community gathering spot, a place to fill the belly, and the beating heart of West Oakland, a storied postindustrial neighborhood across the bay from San Francisco.

The restaurant is a friendly beacon on a tree-lined parkway, nestled low and snug next to a scrap-metal yard in this Bay Area rust belt. Out front, customers congregate on long benches and sprawl in the grass, soaking up the sunshine, sipping at steaming mugs of Oakland-roasted coffee, waiting to snag one of the tables they glimpse through the swinging doors. Deals are done, friends are made; this is a community in action. In short order, they'll get their table, their pecan-studded sticky buns, their meaty hash topped with a quivering poached egg. Later in the day, the line grows, and the orders for chef-owner Tanya Holland's famous chicken and waffles or oyster po'boy fly. This is when satisfaction arrives.

Brown Sugar Kitchen, the cookbook, stars 86 recipes for re-creating the restaurant's favorites at home, from a thick Shrimp Gumbo to celebrated Macaroni & Cheese to a show-stopping Caramel Layer Cake with Brown Butter–Caramel Frosting. And these aren't all stick-to-your-ribs recipes: Tanya's interpretations of soul food star locally grown, seasonal produce, too, in crisp, creative salads such as Romaine with Spring Vegetables & Cucumber-Buttermilk Dressing and Summer Squash Succotash. Soul-food classics get a modern spin in the case of B-Side BBQ Braised Smoked Tofu with Roasted Eggplant and a side of Roasted Green Beans with Sesame-Seed Dressing. Straight-forward, unfussy but inspired, these are recipes you'll turn to again and again.

Rich visual storytelling reveals the food and the people that made and make West Oakland what it is today. Brown Sugar Kitchen truly captures the sense—and flavor—of this richly textured and delicious place.