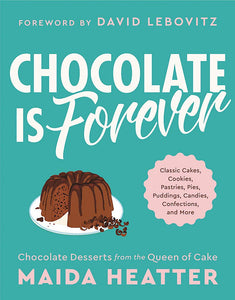 Chocolate Is Forever: Classic Cakes, Cookies, Pastries, Pies, Puddings, Candies, Confections, and More by Maida Heatter
Regular price $16.80 $28.00 Sale
Hardcover
From simple sweets to complex confections, create dazzling desserts with this beautifully illustrated chocolate cookbook from a baking "legend" (New Yorker).
Maida Heatter is one of the most trusted and beloved cookbook authors of all time. Her recipes, each a modern classic, have inspired extraordinary bakers such as Dorie Greenspan, Christina Tosi, and David Lebovitz, whose foreword introduces the joy of baking with Maida to a new generation.
Throughout Maida's nearly 50-year career as a "genius" of baking (New York Times), one thing was constant: her passion for chocolate. She created hundreds of recipes for chocolate cakes, puddings, pies, cookies, and more. Now, Chocolate Is Forever collects her very best, most irresistibly chocolatey delights-including The World's Best Hot Fudge Sauce.
Developed for foolproof baking by anyone, each of these nearly 100 recipes is written with Maida's warm but no-nonsense instructions and carries her guarantee that it will work perfectly every time. With recipes ranging from simple cupcakes and fudgy brownies to decadent flourless cakes, this book is a must-have in every chocolate-lover's kitchen