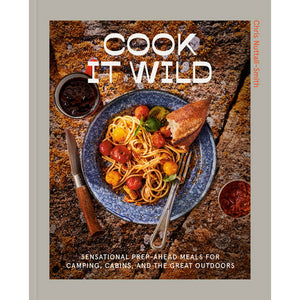 Cook It Wild by Chris Nuttall-Smith
Regular price $29.99 Sale
Hardcover
Say goodbye to ho-hum canned beans and freeze-dried backpacking meals. With prep-ahead recipes and field-tested advice, flavor-packed dishes like herby lemon chicken, vegan dan dan noodles and even fire-baked pecan sticky buns become deliciously doable
and
fuss-free. Each recipe is divided into "at home" and "at camp" sections, so most of the cooking is done before your trip. Extraordinary outdoor eating is often as simple as dropping fully prepped ingredients into a pot or onto a grill. Just like that, you'll be feasting on showstopping sweet-tangy lemon ribs, sublime vegetarian pastas, or sizzling cumin lamb kebabs paired with puff-and-serve chapati.
Plus, with fun and savvy camp kitchen advice, you'll learn everything you need to become a master outdoors cook, including which cheeses travel best, how to chill drinks when you don't have ice, how to pick (and use) a backpacking stove, and how to make great coffee in the wild!
Whether your idea of wilderness is a beach, a mountain, a rushing river or your own backyard, you'll want to make these recipes for friends and family. For cooks and campers of every level,
Cook It Wild
turns outdoor mealtimes into a cause for celebration--and the highlight of every trip.
In this game-changing camping cookbook, food writer and adventurer Chris Nuttall-Smith introduces an ingenious prep-ahead approach to eating outdoors, with 80 easy-to-make and wildly tasty recipes.