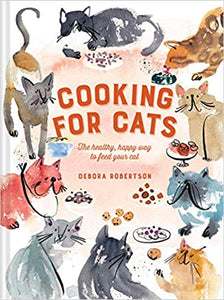 Cooking For Cats The Healthy, Happy Way To Feed Your Cat by Debora Robertson
Regular price $14.95 Sale
Hardcover
Twenty simple, healthy, and delicious recipes to cook for your cat at home, from everyday dishes to treats and snacks.

In her latest book, food writer Debora Robertson has created a fun, indulgent book for feline fanatics. Inspired by her cat, Dixie, she's devised an exciting menu of simple, inexpensive dinners and treats made using readily available ingredients, so they fit easily into your everyday life. With twenty recipes, there is something to tempt even the most finicky of feline palates.

The book is packed full of advice on your marvelous cat's diet. It begins with an indispensable larder section before guiding you through everyday treats, easy one-pot dinners, and delicious dishes for special occasions. Many of the dishes can be made cheaply in batches, and there is advice on how best to feed your cat. The book includes recipes not only for good general health, but also advice on nutrition for sick or recovering cats.

And because play is important, the book also contains simple craft projects too, including a fishing-pole toy, scratching post, indoor kitty garden, catnip mouse, cardboard cat playhouse, and cat pillow. There are also suggestions on making presents for cats, as well as tips on training and general good cat behavior.