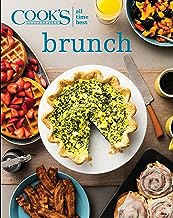 Cook's Illustrated All Time Best Brunch by America's Test Kitchen
Regular price $12.00 Sale
Hardcover
Everything that makes brunch great also makes it tricky to prepare at home. From just-set eggs to high-flying popovers to rich (not soggy) strata, it's challenging to get every element just right. Enter this fresh collection of 75 foolproof recipes that guarantee a perfectly executed brunch every time.

This scrupulously tested recipe collection features inventive takes on brunch classics (our Huevos Rancheros delivers a whole meal from one sheet pan), helpful make-ahead options (you can freeze our Quick Coffee Cake unbaked for up to a month), and easy approaches to finicky favorites (our Eggs Benedict offers a hollandaise that holds without breaking and a streamlined egg poaching technique).

A smart organization makes building a memorable brunch as easy as flipping through the pages. Go beyond everyday eggs with chile-packed Migas and fuss-free Baked Eggs Florentine (which achieves runny yolks and tender whites in a cheesy spinach base). Chapters on brunch sweets offer new weekend keepers, like Blueberry Swirl Muffins, Cider-Glazed Apple Bundt Cake, and French Toast Casserole (no hovering over the stove). Brunch's savory side gets equal billing with standout recipes like Leek and Goat Cheese Quiche and Savory Bread Pudding with Turkey Sausage and Kale, while a chapter of perfect sides such as Maple-Glazed Oven-Fried Bacon (no messy splattering) and Baked Cheese Grits rounds out the meal. And with recipes serving anywhere from 4 to 16 people you'll find options for brunches large and small.