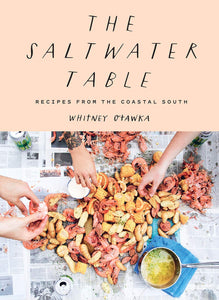 The Saltwater Table Recipes From The Coastal South by Whitney Otawka
Regular price $20.00 Sale
Hardcover
Cumberland Island and the exceptional local ingredients to be found there are Otawka's muse, inspiring her to celebrate the beloved food found along the Southeast coast. Offering a modern perspective on southern flavors with a strong emphasis on vegetables and fresh ingredients, the book contains 125 approachable and flavorful recipes, such as:
Summer Tomatoes Topped with Crispy Okra

Flakey Buttermilk Biscuits with Ginger-Spiked Jam

Sweet Atlantic Shrimp Poached with Beer, Citrus, and Bay Leaves

Shrimp Escabeche with Sungold Tomatoes

Cumberland Paella

Spaghetti Squash with Pecorino Romano Cream and Walnuts

Banana Leaf–Wrapped Snapper

And much more!
This beautifully photographed book also shows us how to enjoy iconic southern meals, everything from an oyster roast to a fish fry to a Low Country boil.

Otawka writes in her introduction, "Layer upon layer, century upon century, the history and the people that have called Cumberland home have sculpted a unique place. It is this wild isolated nature that over the centuries added to its lore." The Saltwater Table transports readers to the mysterious, lush Cumberland Island, allowing us to recreate a taste of this vibrant world in our own kitchens.