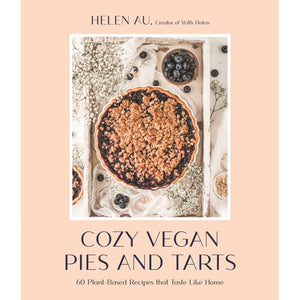 Cozy Vegan Pies and Tarts by Helen Au
Regular price $22.99 Sale
Paperback
Master the Art of the Perfect Vegan Pie.
Vegan readers missing their favorite cozy desserts will love these alternative takes on traditional holiday classics as well as exciting new flavor pairings with Helen Au's extensive guide to plant-based pies and tarts.
Going vegan doesn't mean giving up flaky pie crusts and delicious tarts! With this outstanding collection of comforting recipes, it's easy as can be to make delectable plant-based pastries that your family and friends will rave about.
Whether you're looking for a classic childhood favorite, a no-bake tart for a hot summer day or a savory galette for a quick yet elegant dinner, Helen Au of With Helen has the perfect recipe for you. Traditional favorites such as Blueberry Crumble Pie, Vegan German Chocolate Tart and Pumpkin Caramel Pie are the perfect desserts for any gathering or special occasion. Approachable recipes like Strawberry Matcha Tart, Chinese White Pear and Ginger Pie, Chamomile Grapefruit Tart and Lemony Ricotta Summer Squash Galette feature unique, exciting flavor combinations to please every palate.
Packed with beginner-friendly treats and featuring a variety of tested-and-true crust recipes--including gluten-free and refined sugar-free options--this is the only guide you'll ever need to make the perfect vegan pie every time.