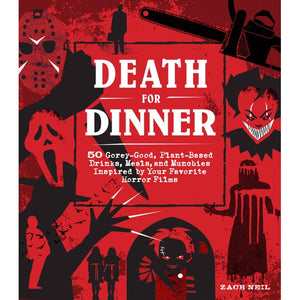 Death for Dinner Cookbook by Zach Neil
Regular price $24.99 Sale
Hardcover
The Death for Dinner Cookbook presents horror movie-inspired, plant-based comfort food recipes that are both delightfully gruesome and delicious.Visit your dark side with 60 frightfully delicious plant-based comfort-foods, baked goods, and cocktails inspired by your favorite horror movies and TV shows.
From the mad mind of acclaimed chef Zach Neil comes this killer plant-based cookbook inspired by your favorite horror movies and TV shows. The follow-up to his best-selling cookbook, 
Nightmare Before Dinner
, the 
Death for Dinner Cookbook
 delivers gruesome goodness in 60 stick-to-your guts comfort-food recipes, from startling starters and monstrous mains to depraved desserts and cursed cocktails, including:
Crystal Lake BBQ Sliders, inspired by Friday the 13th - The only thing better than warm sunshine, campfires, and working up an appetite after escaping the clutches of Jason Vorhees are these pulled mushroom sliders.
Children of the Hominy, inspired by Children of the Corn - An ancient recipe from Gatlin, Nebraska, this pozole will make anyone rise up from the stalks.
The Hills Have Fries, inspired by The Hills Have Eyes - This hill of hand-cut french fries smothered in a béchamel and chili sauce and topped with fresh scallions, red onion, fakon, and cilantro and lime sour cream will have everyone watching you.
Blood Orange Cheesecake Trifle, inspired by Dexter - Complete with blood orange, vegan cream cheese, and hints of lemon, this dessert is the right amount of sweet and airy--no gloves or plastic wrap are required to make.
Never Sleep Again, inspired by Nightmare on Elm Street - Stay awake (and alive!) with this alternative take on an old-fashioned cocktail made with a shot of espresso.
Though the recipes may look terrifying, they are easy to make and will impress even the most stubborn carnivores. So, get ready to throw the ultimate Halloween party or some epic movie nights. Let's just hope Freddy, Michael, and Jason stay on the screen and off the guest list. [cue the beet-juice splatter]