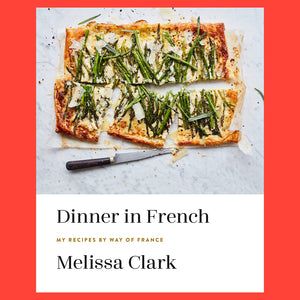 Dinner in French My Recipes by Way of France by Melissa Clark
Regular price $37.50 Sale
Hardcover
Just as Julia Child brought French cooking to twentieth-century America, so now Melissa Clark brings French cooking into the twenty-first century. She first fell in love with France and French food as a child; her parents spent their August vacations traversing the country in search of the best meals with Melissa and her sister in tow. Near to her heart, France is where Melissa's family learned to cook and eat. And as her own culinary identity blossomed, so too did her understanding of why French food is beloved by Americans.

Now, as one of the nation's favorite cookbook authors and food writers, Melissa updates classic French techniques and dishes to reflect how we cook, shop, and eat today. With recipes such as Salade Nicoise with Haricot Vert, Cornmeal and Harissa Soufflé, Scalloped Potato Gratin, Lamb Shank Cassoulet, Ratatouille Sheet-Pan Chicken, Campari Olive Oil Cake, and Apricot Tarte Tatin (to name a few), 
Dinner in French
 will quickly become a go-to resource and endure as an indispensable classic.