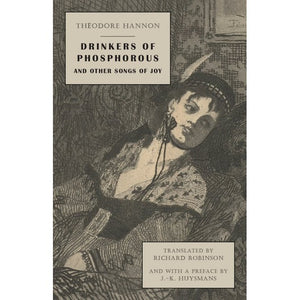 Drinkers of Phosphorous and other Songs of Joy by Theodore Hannon
Regular price $16.00 Sale
Paperback
Drinkers of Phosphorous and other Songs of Joy, originally published as Rimes de Joie, in 1881, and here presented in its first English translation by Richard Robinson, was Théodore Hannon's second book of poetry. It has the rare and double cachet of, firstly, having a preface by J.-K. Huysmans, and subsequently being lauded by Huysmans' hero Des Esseintes in the great Decadent novel À Rebours.
A painter, artist, scenarist, theatrical-parodist and poet, Hannon was influential in Belgian modernist artistic circles of the period. With his good friend Félicien Rops, he helped found the influential progressive Belgian society La Chrysalide in 1875. As editor-in-chief of l'Artiste, a weekly literary review based in Brussels, he helped promote the then-fledgling French Naturalist movement.
Of Hannon and his work, Huysmans wrote in À Rebours that its charming corruption corresponded fatally with Des Esseintes' penchants . . . the foggy days, rainy days, when he locked himself up in the poet's imagined retreat, getting drunk with his eyes on shimmering fabrics, incandescences of stones . . .