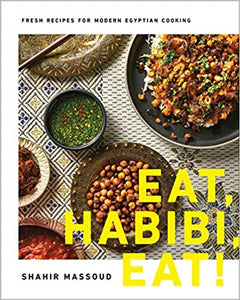 Eat, Habibi, Eat!: Fresh Recipes for Modern Egyptian Cooking by Shahir Massoud
Regular price $30.00 Sale
Hardcover
100 recipes to celebrate the bold flavors, bright colors, and fresh tastes of the Middle East.

In Arabic, "habibi" translates to "my darling," and it is this loving endearment, reserved for the closest friends and family, that permeates every recipe that Canadian-Egyptian chef and television host Shahir Massoud has to offer.
     Sharing mouthwatering street foods and casual everyday staples, as well as new interpretations of traditional dishes, Eat, Habibi, Eat! encourages you to explore the rich spices and irresistible dishes of the Middle East at home. And Shahir's personal stories, all told in his warm and playful voice, are just as captivating as his food (you'll burst out laughing at his mother's insistence that the Egyptian people would never forgive him if he altered the definitive recipe for ful mudammas). 
     Combining his family's heritage meals with his French and Italian chef training, Shahir teaches you how to build the ultimate Egyptian pantry using some special food items, but mostly ingredients that can be found at your local grocery store. From there, you'll dive in to the over 100 mouthwatering recipes for every meal and time of day.
     From classic mainstays like Shakshuka, Shawarma and Fattoush Salad, to modern plates like Chickpea Fries with Harissa Mayo and Coffee and Coriander Beef Ribs with Pomegranate BBQ Sauce, Eat, Habibi, Eat! is a feast for the eyes and the taste buds. Whether you already love Middle Eastern cuisine or have never heard of sumac before, Shahir's sumptuous book will inspire you to try something new in the kitchen and have fun doing it.