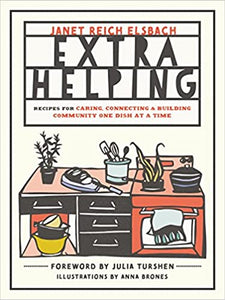 Extra Helping Recipes For Caring, Connecting & Building Community One Dish At A Time by Janet Reich Elsbach
Regular price $19.95 Sale
Paperback, New
A portion of the sales proceeds will be donated to Feeding America.  Every book sold provides five meals to families in need!

Show up, be kind, and cook! Over 70 recipes for those who need a helping hand in your community.
 
There is no more essential place to show up for people than on the plate. Extra Helping is for anyone who wants to respond to the challenge of baby announcements, PTO meal chains, and CaringBridge alerts with compassion and creativity; who wants to send something to a niece overcome by finals week or a neighbor who is grieving; and whose limits of time and other resources leave them feeling more confused than inspired. With recipes tailored to meet many of the dietary modifications that illness and recovery (not to mention modern life) often entail, Extra Helping walks you, the helpful friend, through cooking for people who are dealing with illness, recovery, and loss, or celebrating babies, birthdays, and new homes. Personal stories from the front lines of care, shortcuts for the time-strapped, and sidebars full of tips and embellishments round out a collection of over 70 recipes, aiding readers in developing a style of caregiving all their own. Extra Helping frames a philosophy of support, a personal identity of tending, a creative and unique-to-you style of saying "I am here for you"—one delivery at a time.