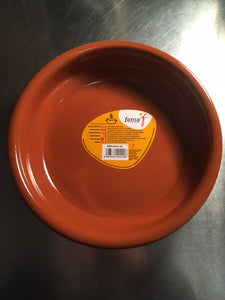 Fansa Round Terracotta Cazuela 8"/21cm
Regular price $20.00 Sale
Terra Cotta Pan Imported from Spain

Made from natural clay, food safe, lead and toxin free

For use on the stove top, oven, microwave or even live fire

Dishwasher Safe
The esteemed Mediterranean cooking authority Paula Wolfert on curing a new cazuela:

Clay pots are fragile...but proper curing will harden them to the point that they can be used with a flame-tamer over direct heat.
Soak the entire dish in water to cover for 12 hours. Drain and wipe dry. Rub the unglazed bottom with a cut clove of garlic (we are not sure how the garlic works, but why argue with tradition?) Fill the dish with water to 1/2 inch below the rim, then add 1/2 cup of vinegar. Place the dish on a flame-tamer over low heat and slowly bring the water to a boil.
Let the liquid boil down until only about 1/2 cup remains. Cool slowly and wash. Your cazuela is ready for use - the garlic has created a seal. This technique has been used since the middle ages. It seasons the pot, kills bacteria, and hardens the unglazed parts.
Especially if you intend to use the cazuela to cook strong flavored fish or seafood, after soaking, rub the inside of the base and lid with olive oil and put into a preheated 300 degree oven for 1.5 hours. Turn off the heat and let cool. Either method will strengthen your cazuela.
To clean, soak in [hot] water and scrub with a soft brush to remove any hardened food.
If you have not used the cazuela for an extended period of time, you may need to re-cure it before use.