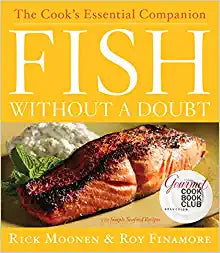 Fish Without A Doubt The Cook's Essential Companion by Rick Moonen & Roy Finamore
Regular price $14.00 Sale
Hardcover
Comprehensive. Friendly. Indispensable. With more than 250 simple and delicious recipes.

No doubt about it, fish is a cook's dream. Fast. Low in fat, versatile, and healthful, it's even brain food. No other fish cookbook contains such a comprehensive selection of approachable, contemporary recipes. It's written by a pair of experts: a nationally known three-star seafood chef whose true passion is teaching home cooks, and an award-winning writer and sought-after food authority. Arranged for the cook's complete convenience, Fish without a Doubt encompasses chapters on all the techniques of fish cookery—from poaching to grilling to sautéing—as well as on all the most popular seafood dishes—from appetizers, to soups and salads, to burgers and pasta.

The recipes range from updated versions of classics (Trout Almondine, Linguine with Clams, Jumbo Lump Crab Cakes) to the latest favorites (Steamed Black Bass with Sizzling Ginger,Tuna Burgers with Cucumber Relish, Thai-Style Mussels). It includes slews of quickies for weeknight specials (Broiled Fillets with Butter and Herbs) and centerpieces for splashier occasions (A Big Poached Char). Featuring only seafood that is not overfished, Fish without a Doubt provides the latest information for the eco-conscious cook about our last wild frontier.