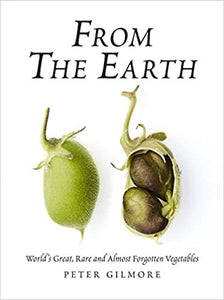 From the Earth: World's Great Rare and Almost Forgotten Vegetables by Peter Gilmore
Regular price $60.00 Sale
Hardcover
2019 James Beard Award Nominee From the Earth is a celebration of approximately 50 unique and exotic heirloom vegetables and plants through the seasons. Some the author grows himself in his experimental home garden, while others come from suppliers he has developed close and lasting relationships with over his 15 years as executive chef at Quay restaurant in Sydney, Australia.

The book includes full-color photography by Brett Stevens alongside botanical illustrations heroing each vegetable, as well as key information (family group; history and origin; traditional cooking uses; growing conditions; anecdotal stories; and why the author loves them!) and a recipe inspired by the vegetable.

The recipes range from very simple – about the cooking technique with little adornment – to more complex dishes that may feature at Peter's restaurants Bennelong or Quay. All are approachable and achievable in the home kitchen. The key, always, is celebrating the organic beauty of the vegetables and allowing them to shine. In the chef's words: 'Simplicity is key, with a little bit of complexity thrown in'.

Recipes include Fried puntarelle chicory, Kyoto red carrot salad (sheep's milk feta, smoked almond, sherry caramel), Slow braised roveja peas (fermented mushroom and black garlic purée) and Slow cooked galeux d' eysines pumpkin (aged comte cream, truffle).
In addition, the book profiles, in words and pictures, chef Gilmore's home garden and the evolution of his now abiding passion for it, as well as a handful of his most loyal growers and seed suppliers.