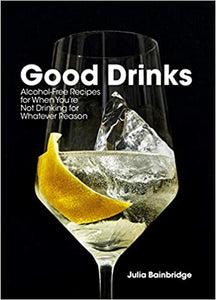 Good Drinks Alcohol-Free Recipes For When You're Not Drinking For Whatever Reason by Julia Bainbridge
Regular price $22.99 Sale
Hardcover
A serious and stylish look at sophisticated nonalcoholic beverages by a former Bon Appétit editor and James Beard Award nominee.

"Julia Bainbridge resets our expectations for what a 'drink' can mean from now on."—Jim Meehan, author of Meehan's Bartender Manual and The PDT Cocktail Book

Blackberry-infused cold brew with almond milk and coconut cream. Smoky tea paired with tart cherry juice. A bittersweet, herbal take on the Pimm's Cup. Writer Julia Bainbridge spent a summer driving across the U.S. going to bars, restaurants, and everything in between in pursuit of the question: Can you make an outstanding nonalcoholic drink? The answer came back emphatically: "Yes."

With an extensive pantry section, tips for sourcing ingredients, and recipes curated from stellar bartenders around the country—including Verjus Spritz, Chicha Morada Agua Fresca, Salted Rosemary Paloma, and Tarragon Cider—Good Drinks shows that decadent brunch cocktails, afternoon refreshers, and evening digestifs can be enjoyed by anyone and everyone.