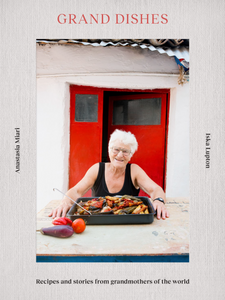 Grand Dishes Recipes and Stories from Grandmothers of the World by Anastasia Miari & Iska Lupton
Regular price $29.95 Sale
Hardcover  
Inspired by journalist Anastasia Miari's Greek grandmother, Grand Dishes is a project that collects and shares the stories that have seasoned grandmothers' recipes all over the globe. There's no food quite like that of our grandmothers and this project is an ode to them.
The book, published in 2021 by Unbound is a coffee table-worthy cookbook rich with stories, elegant portraiture and diverse recipes from 70 grandmothers, plus recipes from the grandmothers of famous chefs, including Francis Mallmann, Anna Jones and Enrique Olvera.
Grand Dishes is not just a compendium of dishes, it's a selection of stories and techniques that are completely unique to a region, a grandmother and her family.