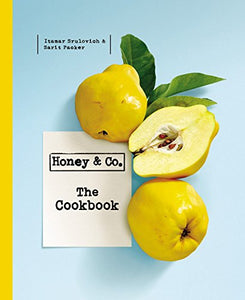 Honey & Co. the Cookbook by Itamar Srulovich & Sarit Packer
Regular price $35.00 Sale
Hardcover
Discover the delicious Middle Eastern flavors from the London cafe that "captures everything that is generous, hearty, and delicious in the Middle East" (Yotam Ottolenghi)
After falling in love through their shared passion for food, Itamar Srulovich and Sarit Packer launched Honey & Co., one of London's hottest new restaurants, in 2012. Since opening the doors, they have created exquisite dishes, delectable menus, and an atmosphere that's as warm, inviting, and exotic as the food they serve.
Recipes include spreads and dips, exquisitely balanced salads, one-pan dishes, simple fragrant soups, rich Persian entrees, the tagines of North Africa, the Sofritos of Jerusalem, and the herb-infused stews of Iran. HONEY & CO. brings the flavors of the Middle East to life in a wholly accessible way, certain to entice and satisfy in equal measure.
About the Author:
Itamar Srulovich was born and raised in Jerusalem, cooking since the age of five and trained on the job in various places in Tel-Aviv. Itamar worked as the head chef under successful restauranteur Yotam Ottolenghi before opening Honey & Co. He is very happily married.

Sarit Packer has been cooking and baking since she was five, trained at Butlers Wharf and at the Orrery under Chris Galvin. Sarit is married quite happily to Itamar Srulovich but keeps her maiden name for obvious reasons.