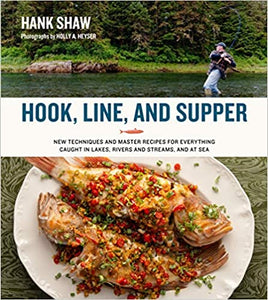 Hook, Line and Supper: New Techniques and Master Recipes for Everything Caught in Lakes, Rivers, Streams and Sea by Hank Shaw
Regular price $32.95 Sale
Hardcover
Quite possibly the only fish and seafood cookbook you'll ever need, from the author of the James Beard Award–winning website Hunter Angler Gardener Cook.
So many of us tense up when faced with a piece of fish or a bag of shrimp. It's understandable. Whether we wake up before dawn to catch our fish or bring it home from the store, we all know that fish aren't cheap, in time or money -- and we just don't want to mess things up. Hook, Line, and Supper aims to banish that fear forever by breaking down the essence of fish and seafood cookery allowing cooks of all stripes to bring out the best in whatever comes home from the market, or the water.
Hook, Line, and Supper zeroes in on broad categories of fish, both freshwater and saltwater, that can substitute for each other, and provides clear techniques and carefully developed master recipes that will help you become a more competent and complete fish and seafood cook.
Shaw will give you all you need to know about buying, cleaning, and cooking fish and seafood from all over North America. You'll find detailed information about how best to treat various species from the moment they emerge from the water, how to select them in the market, and how to prep, cut, and store them.
Shaw's approachable recipes include tried-and-true standards like fish and chips and smoked salmon, international classics like Chinese steamed fish with chiles, English fish pie, Mexican grilled clams, and Indian crab curry, and deeply personal dishes like Maine-style clam chowder, which has been in his family for more than a century. It also features an array of fish and seafood charcuterie, from fresh sausages and crispy fish-skin chips to terrines and even homemade fish sauce.
The most comprehensive guide to preparing and cooking fish and seafood, Hook, Line, and Supper will become an indispensable resource for anglers bringing home their catch and home cooks looking for new ways to cook whatever fish or seafood strikes their fancy at the market.