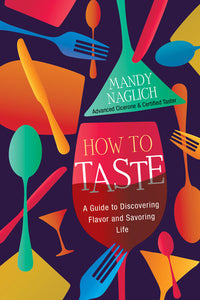 How to Taste: A Guide to Discovering Flavor and Savoring Life by Mandy Naglich
Regular price $25.00 Sale
Hardcover
Perfect for foodie fans of Salt, Fat, Acid, Heat  as well as Cork Dork and The Flavor Equation, this instant classic is both a sumptuous behind-the-scenes tour and a fun, appetizing, and informative how-to that covers everything from wine and cheese to ice cream and honey, tea, chocolate, and even water, from the science of taste and the rituals of creating a fine-tuned palate, to plucking flavor descriptions from the tip of your tongue, and learning how appreciating food can help you appreciate life.

You love to eat. But do you know how to taste?

On a delectable sensory romp through the science of flavor, award-winning professional taster Mandy Naglich, one of less than 100 Advanced Cicerones in the world, gives you a seat at the table in the elite world of master tasters – scientists, professional tasters, sommeliers, umami ushers and more – divulging the secrets behind their perfected palates so you, too, can become a super taster.

Whether it's a meaningful meal or a favorite nostalgic road trip snack, we know what we like to eat. But even when it comes to the most vivid and memorable dishes it's tough to say what exactly makes them so delicious.Now award-winning expert, certified food and beverage taster and lifestyle journalist Mandy Naglich reveals how to hone your tasting superpowers like a pro.

Take a seat beside highly-trained cheese analysts, world-class sommeliers, competitive whiskey tasters, internationally recognized chefs, and sensory scientists as experts divulge the secrets to discerning the notes in a range of ingredients, from a dab of honey to a spoonful of olive oil—and even a sip of mineral water.

Discover why a James Beard award-winner was visibly nervous before a blindfolded taste test on Top Chef Masters, and how coffee farmers base growing practices on the palate of one world-renowned authority. Learn why your taste buds respond to variables such as food temperature and background music. What the flavor distinction is between a pomme fruit and a stone fruit, how to judge the acidity of anything, from a cup of tea to a square of dark chocolate—and how understanding flavor can impact the way you understand the world.

A rich journey for the flavor-obsessed, this instant classic is both a practical guide and a sumptuous meditation on how to savor all things delicious—on the plate and in life.