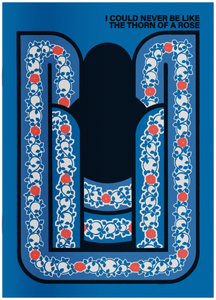 I Could Never Be LIke the Thorn of a Rose by Abe Lampert
Regular price $15.00 Sale
Zine
This book was really enjoyable to make, as the page and color limitations helped me understand two aspects of my work that are very important to me. My desire to structure narrative so that ideas can circle back and meet themselves, and my attraction to color interaction as a possible confusion of depth. The writing is very personal and the title comes from a misheard Sandy Denny lyric." -Abe Lampert
I was born in Wheeling, West Virginia in 1984. The first comic book I bought was Wolverine #71 in July 1993 and the most recent was Alberto Breccia's Dracula. I live in Brooklyn, NY and for the past two years have been working on a series of gouache paintings.
32pp 5x7" 4-color Risograph booklet in Blue, Crimson, Yellow, and Black ink on Domtar Earthchoice 70#T Gray.
Published by Perfectly Acceptable Press in Chicago.