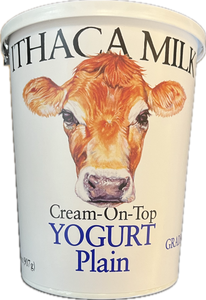 Ithaca Whole Jersey Cow Creamline Yogurt, Plain
Ithaca Milk was started a few years ago with the idea in mind that small scale, sustainable farming is possible in a modern farming landscape. The animals and the land that produce our food should be treated with respect, and managed with the living environment in mind.
Since inception we have focused on supporting a few small, single breed farms with extremely high quality milk. Milk is made by cows as a highly variable and complicated natural ingredient, and we know that the best way to make great yogurt is to use great milk. Rather than adding artificial ingredients, thickeners and stabilizers, or devising complicated processing methods to correct for low quality milk, we focus on getting the best milk possible from the healthiest, happiest cows possible.