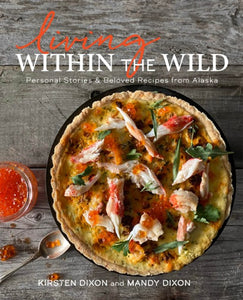 Living Within the Wild
Regular price $34.99 Sale
Hardcover
Living Within the Wild features over 100 original recipes, accompanied by personal stories and stunning photographs, to illustrate the lives of one Alaska family that has learned to live well amidst the intense but scenic backcountry of Alaska.
"When I stayed five nights at Winterlake Lodge in Alaska, I looked forward to my breakfast, lunch, and dinner to see what delicious creations chef Mandy Dixon would serve me and my crew. She did not disappoint and these dishes are all in her terrific new cookbook, Living Within the Wild. Some are so good, I just might steal them and put in my next cookbook. Don't worry, I'll give Mandy the credit."
--Nancy Silverton, James Beard Award–winning chef, author, co-owner of Pizzeria Mozza
The Dixons have been running award-winning adventure lodges in Alaska for over thirty years, celebrating the bounty that the land has to offer with guests from around the world. Their lodges and restaurants are known not just for the rare adventures and incredible views of the Alaskan wilderness, but also for appealing dishes created from the freshest local seafood and produce.
Chefs Kirsten and Mandy Dixon's combined culinary experience has been recognized nationally and internationally, from cooking at the famed James Beard House in New York City to serving private dinners for National Geographic guests. In this book, mother and daughter offer their favorite recipes, featured on their menus at the lodges and café but specially recreated for the home chef's kitchen. They also share their unique experiences of life at the lodges—from embracing entrepreneurial challenges to working with family, to sharing the deep purpose and meaning in living in the natural world and wilderness.
Chapters are organized thematically, weaving through stories about the seasonal shifts that make this women-run business unique. A final chapter honors the men in Kirsten and Mandy's lives by sharing quick profiles along with a favorite recipe.
From your own kitchen, learn to make delicious dishes such as Black Bean Reindeer Chili or King Salmon Bowl with Miso Dressing; snack on Dried Tomato Sesame Cookies, or dine on Smoked Caramel Blueberry Brownies. And along the way, experience a sense of backcountry Alaska through the flavors of seasonal and regional ingredients as the Dixons welcome you into their secret world in the remote wilderness.