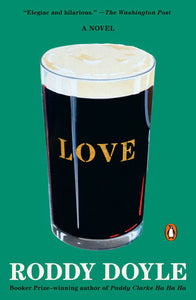 Love by Roddy Doyle
Regular price $17.00 Sale
Paperback
Two old friends reconnect in Dublin for a dramatic, revealing evening of drinking and storytelling in this winning new novel from the author of the Booker Prize winning Paddy Clarke Ha Ha Ha

One summer's evening, two men meet up in a Dublin restaurant.

Drinking pals back in their youth, now married and with grown up children, their lives have taken seemingly similar paths. But Joe has a secret he needs to tell Davy, and Davy has a sorrow he wants to keep from Joe. Both are not the men they used to be.

Joe has left his wife and family for another woman, Jessica. Davy knows her too, or should – she was the girl of their dreams four decades earlier, the girl with the cello in George's pub. As Joe's story unfolds across Dublin – pint after pint, pub after pub – so too do the memories of what eventually drove Davy from Ireland: his first encounter with Faye, the lively woman who would become his wife; his father's somber disapproval; the pained spaces left behind when a parent dies.

As the two friends try to reconcile their versions of the past over the course of one night, Love offers a delightfully comic yet moving portrait of the many forms love can take throughout our lives.