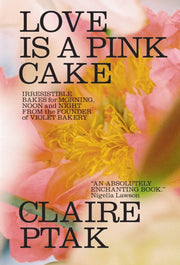 Love is a Pink Cake by Claire Ptak
Regular price $35.00 Sale
Hardcover
A deeply personal cookbook, Love is a Pink Cake is an intimate reflection of Claire's upbringing in northern California and current life in London, baking with the seasons, and the incomparable gesture of baking a cake for loved ones.

Renowned for the wedding cake she created for Prince Harry and Meghan Markle, Claire offers 75 of her favorite sweet and savory recipes in her stunning new cookbook, which showcases her unique sensibility for bakes of all occasions, from early morning treats to party centerpieces.

Claire spent years working as Pastry Chef at Alice Waters' famed Chez Panisse, before moving to London. She began selling her baked goods at a stall in London's Broadway Market, and after selling out weekly with lines down the block, she opened Violet Bakery in Hackney in 2010. The Californian-style bakery quickly became a cult-favorite destination for seasonal baking and beautifully designed cakes, and Claire developed a high profile fanbase (like Nigella Lawson and Jamie Oliver, who calls her "my favorite cake maker in the whole world").

Love is a Pink Cake, is a follow-up to Claire's successful The Violet Bakery Cookbook, which garnered international acclaim. Divided into two sections – California and England – the recipes are categorized by time of the day, from morning to "party party" recipes. Including gluten-free, refined sugar-free and vegan bakes, as well as the sought-after recipe for the Duke and Duchess's Lemon Elderflower Cake, Love is a Pink Cake offers recipes for bakers of all skill levels, from beginner to advanced.