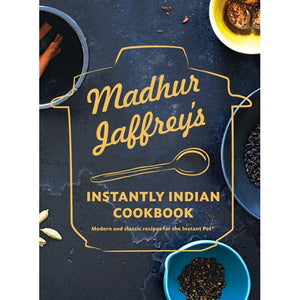 Madhur Jaffrey's Instantly Indian Cookbook Modern and Classic Recipes For the Instant Pot by Madhur Jaffrey
Regular price $22.00 Sale
Hardcover
For more than forty years, Madhur Jaffrey has been revered as the "queen of Indian cooking" ( Saveur). Here she shares inviting, easy-to-follow recipes--some entirely new, others reworked classics--for preparing fantastic Indian food at home. While these dishes are quick and easy to prepare, they retain all the rich complexity for which Jaffrey's food has always been known, making this the only Indian cookbook with recipes designed for the Instant Pot you'll ever need.
RECIPES: From classics like butter chicken and buttery dal to new sure-to-be-favorites like kale cooked in a Kashmiri style and Goan-style clams, these recipes capture the flavorful diversity of Indian cuisine.
EASY-TO-FOLLOW: Written with the clarity and precision for which Jaffrey has always been known, these are flavor-forward recipes that make the most of the Instant Pot's unique functionality.
A DIFFERENT KIND OF COOKBOOK: Rather than simply adapting recipes for one-pot cooking, Jaffrey has selected the essential dishes best suited for preparing using the Instant Pot, and created some all-new delectable dishes that make the most of its strengths.
BEYOND THE INSTANT POT: Also included are thirteen bonus, no-special-pot needed recipes for the chutneys, salads, and relishes you need to complete any Indian meal. Think avocado-radish salad, fresh tomato chutney, and yogurt and apple raita.
SPICES AND SPECIAL INGREDIENTS: Jaffrey provides a list of pantry essentials, from asafetida to whole spices, as well as recipes for her own garam masala blend and more.
TIPS: Here too is Jaffrey's advice on the best way to make rice, cook meat and fish in your Instant Pot, and more, based on her own extensive testing.