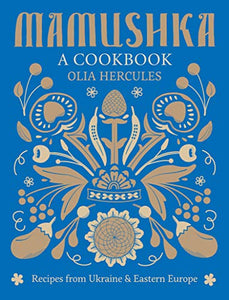 Mamushka: A Cookbook by Olia Hercules
Regular price $35.00 Sale
Hardcover
The Ukrainian-born chef presents "a gorgeous love letter to the food of her homeland" with this vibrant and varied collection of recipes (SAVEUR).
In 
Mamushka
, Olia Hercules takes readers and home cooks on a culinary tour of Eastern Europe—from the Black Sea to Baku, Kiev to Kazakhstan. This beautifully illustrated cookbook features more than one hundred recipes for fresh, delicious, and unexpected dishes from this dynamic and often misunderstood region.
Olia Hercules was born in Ukraine and lived in Cyprus for several years before moving to London and becoming a chef. In this gorgeous and deeply personal cookbook, she shares her favorite recipes from her home country with loving stories about her culinary upbringing and family traditions.
"Forget what you think you know about Ukrainian food; with OIia Hercules, it's fun and colorful." —Epicurious