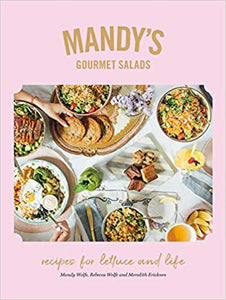 Mandy's Gourmet Salads: Recipes for Lettuce and Life by Mandy Wolfe, Rebecca Wolfe, Meredith Erickson
Regular price $30.00 Sale
Hardcover
From the sisters behind Montreal's sensational gourmet salads comes an overwhelmingly gorgeous cookbook, packed with simple and delicious recipes for salads--and much more!

There's nothing a Mandy's salad can't fix. Want an explosion of colour, texture, flavour and fabulousness? Look no further. Inside the pages of this stunning cookbook (and the Mandy's restaurants it's named after) lies everything you need to take your salad game from a meh-maybe, to wooooah, baby!!

Mandy's gourmet salads are a jewel of Montreal's (jam-packed) food scene. What started as a 3ft counter at the back of Mimi & Coco clothing store is now an 8 location success story, with ongoing expansion in every direction. Behind Mandy's are the irresistable Wolfe sisters, Mandy and Rebecca. Mandy is in charge of menu inspiration and creation; Rebecca leads the design of all their restaurant locations. More is more is the mantra for both: more colour, more texture, more vibrancy, more life!

In Mandy's Gourmet Salads, Mandy and Rebecca talk you through how to create their coveted salads at home, including easy prep steps for essential ingredients, how to mix their famous dressings, and how to combine flavours and textures to create a salad masterpiece. Also inside are recipes for Mandy's nutritious, filling and fantastic grain bowls (for those who want a bit more sustenance) as well as chapters dedicated to smoothies and sweets (sharing Mandy's famous chocolate chip cookie recipe for the first time...). Perfectly timed for fresh summer living, Mandy's Gourmet Salads is a feast, for the eyes as well as the tastebuds!