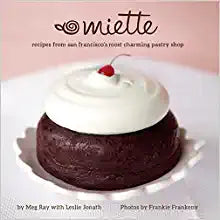 Miette Recipes from San Francisco's Most Charming Pastry Shop by Meg Ray with Leslie Jonath
Regular price $34.99 Sale
Hardcover
Sharing the secrets of creating the perfect pastries, candies, cookies, and chews from the Miette Patisserie, this delicious dessert cookbook combines the rustic charm of homemade sweets with the elegance of French baking. With all new recipes and photos, take your baking to the next level.
Bring home San Francisco's favorite French bakery. Renowned for beautiful cakes and whimsical confections, Miette Patisserie is among the most beloved of San Francisco's culinary destinations for locals and travelers. At Miette, cakes, cookies, and desserts are transformed into creative creations. Its pretty Parisian aesthetic enchants visitors with tables piled high with beribboned bags of gingersnaps, homemade marshmallows, fleur de sel caramels, and rainbows of gumballs.
The cutest confectionary cookbook you'll ever own. Self-taught baker and owner Meg Ray shares baking recipes and secret formulas for favorite Miette treats in this scrumptious sweets cookbook. More than 75 gorgeous color photos capture the enchanting beauty of Miette desserts and shops. The edges on the book block enhance its charming package, adding a sweet touch to every home. Whether professionals or beginners, baking aficionados will delight in these unique bakery recipes. Just like the adorable cakes, cookies, eclairs, and tarts for sale in Miette's, this book is irresistible!
Inside, find recipes like:
Strawberry Charlotte

Chocolate Sablés

Lime Meringue Tart

And more!
If you're looking for a French baking gift, a pastry chef cookbook, or a French baking cookbook—like Dessert Person, French Pastry Made Simple, and Tartine—then you'll love Miette.