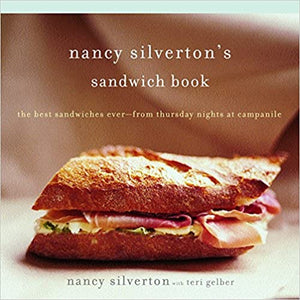 Nancy Silverton's Sandwich Book by Nancy Silverton
Regular price $14.00 Sale
Hardcover
When Nancy Silverton began serving sandwiches one night a week at Campanile, her and husband Mark Peel's award-winning restaurant, she envisioned a laid-back and intimate evening when she'd be able to relax, chat with customers, and have some fun devising new and creative recipes. Well, she hasn't had much time to relax: Sandwich Night became one of Campanile's busiest nights, a vastly popular weekly tradition in Los Angeles and the place to be on Thursdays. And since then, sandwiches have become the latest craze to hit the American food scene.

The reason for Sandwich Night's success is easy to understand: the sandwiches are incredible. They're gourmet meals that happen to sit on bread, the furthest thing away from the boring old sandwiches that we usually content ourselves with. Instead of PB&J or tuna salad, how about Braised Artichokes, Ricotta, and Mint Pesto with Pine-Nut Currant Relish? Or Eggplant, Seared Tuna, and Anchoïade? Or even Bacon, Avocado, and Watercress? These open-faced sandwiches are innovative dishes that taste wonderful, look beautiful, and are perfect for entertaining.

The closed-faced sandwiches are delicious new takes on well-loved standards like the Croque Monsieur, the Monte Cristo, the Reuben, and, of course, everyone's favorite, the Classic Grilled Cheese. Also included are Nancy's creative sort-of sandwiches—Fondue the Swiss Way, Snackbreads, and Skewered Mozzarella—and tea sandwiches, wonderful creations that will banish memories of limp watercress and insipid egg salad forever. As if this isn't enough, there are the mouthwatering sandwich cakes and cookies, like the Open-Faced Berry Brioche Sandwich, Chocolate Cake Club Sandwich, and Almost Oreos.

There are recipes for some truly addictive bar snacks, like Cheese Fritters and Candied Spicy Walnuts, to serve before the meal. And there are also recipes for tantalizing spreads and condiments that go well beyond the ordinary. Finally, for the cook who wants to make everything from scratch, Nancy has included recipes for different breads, from Brioche to Hot Dog Buns, based on those from her world-famous La Brea Bakery.

Written in Nancy's charming, down-to-earth style, these recipes are versatile and easy to follow. As good to look at as they are to eat, these sandwiches offer a new, creative solution to entertaining and will be a valuable addition to the home cook's repertoire. The result: Sandwich Night is sure to be a hit in your home, too.