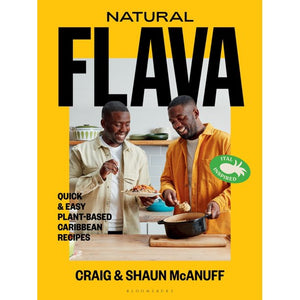 Natural Flava by Craig & Shaun McAnuff
Regular price $30.00 Sale
Hardcover
A vibrantly designed Caribbean vegan cookbook from the internationally celebrated duo behind Original Flava.
 Caribbean food is often known for its tasty meat and fish dishes. However, there's more to Caribbean food than jerk chicken. It also features a wide variety of fresh fruit and vegetables like plantain, yams, jackfruit, guava, and plenty more, making it perfect for vegan recipes.
Jamaica has a long and authentic vegan tradition: the Ital diet of Jamaican Rastafarians. Ital means clean, natural, and unprocessed as much as possible. Rastafari is an expression of unity with all things, and the Ital diet reflects that through a sense of peace and togetherness with the natural world. Essentially Jamaican cooking without salt, meat, or additives, Ital is just as tasty but with the power to promote overall health and wellness.
Craig and Shaun charmed cooks everywhere with their essential introduction to home-cooked Caribbean food in Original Flava. Now, in Natural Flava, they're spreading the love, offering Ital inspiration and punchy Caribbean flavors to the feel-good, plant-based diet taking the world by storm.