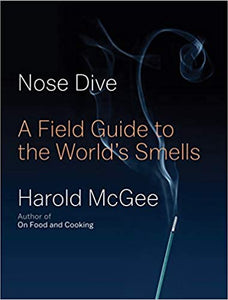 Nose Dive A Field Guide To the World's Smells by Harold McGee
Regular price $35.00 Sale
Hardcover
The ultimate guide to the smells of the universe – the ambrosial to the malodorous, and everything in between – from the author of the acclaimed culinary guides On Food and Cooking and Keys to Good Cooking

From Harold McGee, James Beard Award-winning author and leading expert on the science of food and cooking, comes an extensive exploration of the long-overlooked world of smell. In Nose Dive, McGee takes us on a sensory adventure, from the sulfurous nascent earth more than four billion years ago, to the fruit-filled Tian Shan mountain range north of the Himalayas, to the keyboard of your laptop, where trace notes of phenol and formaldehyde escape between the keys. We'll sniff the ordinary (wet pavement and cut grass) and the extraordinary (ambergris and truffles), the delightful (roses and vanilla) and the challenging (swamplands and durians). We'll smell one another. We'll smell ourselves.

Through it all, McGee familiarizes us with the actual bits of matter that we breathe in—the molecules that trigger our perceptions, that prompt the citrusy smells of coriander and beer and the medicinal smells of daffodils and sea urchins. And like everything in the physical world, molecules have histories. Many of the molecules that we smell every day existed long before any creature was around to smell them—before there was even a planet for those creatures to live on. Beginning with the origins of those molecules in interstellar space, McGee moves onward through the smells of our planet, the air and the oceans, the forest and the meadows and the city, all the way to the smells of incense, perfume, wine, and food.

Here is a story of the world, of every smell under our collective nose. A work of astounding scholarship and originality, Nose Dive distills the science behind the smells and translates it, as only McGee can, into an accessible and entertaining guide. Incorporating the latest insights of biology and chemistry, and interweaving them with personal observations, he reveals how our sense of smell has the power to expose invisible, intangible details of our material world and trigger in us feelings that are the very essence of being alive.