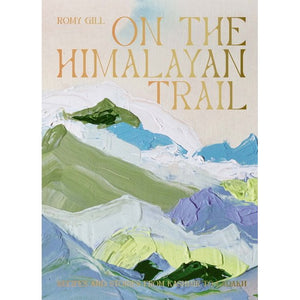 On the Himalayan Trail by Romy Gill
Regular price $42.00 Sale
Hardcover
In On The Himalayan Trail Indian food writer and chef, Romy Gill, tells the story of Kashmir and Ladakh's unique and tantalizing cuisine sharing over 80 extraordinary recipes that can be recreated in your own home kitchen.
With everything from Shammi Kebabs (minced lamb patties) to Wagen Pakora (deep fried aubergine in gram flour) for Nashta (starters) succulent meat curries like the Kashmiri Rogan Josh or Gustaba (lamb meatballs cooked in a yoghurt gravy); to aromatic vegetable dishes such as the Kanguch yakhni (morels cooked in spicy gravy): these recipes shines a light on the magnificent, little-known cuisine of Kashmir and Leh, celebrating its land, its ingredients and its heritage.
Kashmiri cuisine is one of the most delectable cuisines in India. Heavily influenced by Mughal, Persian, Afghan and Central Asian styles of cooking, it offers up a diverse range of dishes, displaying and reveling in a fusion of flavors and influences. Increasingly difficult to access due to the political uncertainty in the region, it's more important than ever to share and preserve Kashmir's secrets and traditional methods of cooking.