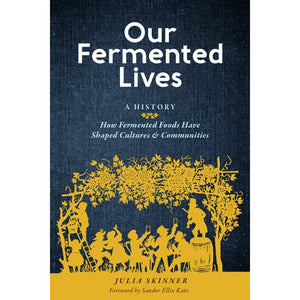 Our Fermented Lives by Julia Skinner
Regular price $30.00 Sale
Hardcover
Food historian and fermentation expert Julia Skinner takes a deep dive into the fascinating cultural history of fermented foods, examining how bread, coffee, tea, alcoholic drinks, vinegars, fermented vegetables, herbs, and spices were first introduced and their inextricable connection to the evolution of human health, food tastes and preservation techniques, and the development of community across many cultures and periods.
From craft beers and sourdough bread to kimchi, coffee, tea, and cheese, fermentation is a popular topic in both food and health circles. In
Our Fermented Lives,
food historian and fermenting expert Julia Skinner explores the fascinating roots of a wide range of fermented foods in cultures around the world, with a focus on the many intersections fermented foods have with human history and culture, from the evolution of the microbiome to food preservation techniques, distinctive flavor profiles around the globe, and the building of community. Fans of fermentation, chefs, and anyone fascinated with the origins of various foods will enjoy this engaging popular history, which is accompanied by 42 recipes adapted from historic sources, including sauerkraut, corn beer, uji (fermented grain porridge), pickles and relishes, vinegars, ketchup, soy sauce, Tepache (fermented pineapple drink), vinegars, beet kvass, and more.