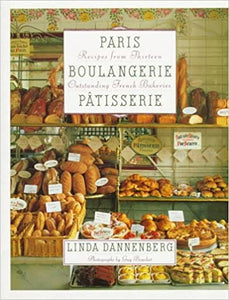 Paris Boulangerie-Patisserie Recipes from Thirteen Outstanding French Bakeries by Linda Dannenberg
Regular price $11.00 Sale
Hardcover
 The compelling aroma of fresh, buttery croissants, the delicacy of Savarin au Chantilly, the bliss of the chocolate-mousse Le Pleyel, these are just a few of the specialties that make Parisian boulangeries and pâtisseries the best in the world. Now, in the sequel to her acclaimed Paris Bistro Cooking, Linda Dannenberg presents the gourmet breads and pastries from thirteen of Paris's unsurpassed bakeries and pastry shops.
PARIS BOULANGERIE-PÂTISSERIE offers more than 70 tempting recipes, including Bombes Amandés (Lemon-Almond Cakes) and Mousse au Caramel et aux Poires (Caramel-Pear Mousse Cake) from Paris's oldest pâtisserie, Stohrer; the signature Délice cake (Chodolate-Cream-and-Chocolate-Macaroon Cake) and lace Florentins from the world-renowned chocolatier Maison du Chocolat; and Pain de Campagne (Hearty Country Loaf) and the classic Gougerés (Giant Gruyére Cheese Puffs) from the archetypal neighborhood bakery Haupois. Linda Dannenberg gathered these one-of-a-kind recipes from the great bakers themselves, and presents them in clear, easy-to-understand recipes specially designed for the American home kitchen.
More than 150 spectacular photographs and evocative descriptions of the bakeries and the people behind them bring the essence of Paris to your kitchen. PARIS BOULANGERIE-PÂTISSERIE is rounded out with a comprehensive guide to authentic French utensils (although most recipes can be prepared using equipment found in ordinary kitchens), and a directory that includes sources for everything from crystallized violets to baking stones.

PARIS BOULANGERIE-PÂTISSERIE is the quintessential cookbook featuring the peerless baked goods from the most romantic city in the world.