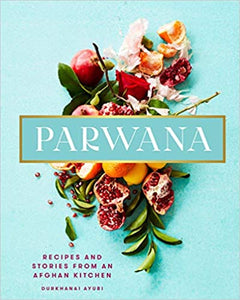 Parwana Recipes and Stories From an Afghan Kitchen by Durkhanai Ayubi
Regular price $35.00 Sale
Hardcover
Authentic Afghan recipes interwoven with family narratives and stunning photography.

Parwana tells one familys story of a region long afflicted by war, but with much more at its heart.

Author Durkhanai Ayubis parents, Zelmai and Farida Ayubi, fled Afghanistan with their young family in 1987, at the height of the Cold War. When their family-run restaurant Parwana opened its doors in Adelaide, Australia in 2009, their vision was to share an authentic piece of the Afghanistan the family had left behind, a country rich in culture, family memories infused with Afghanistans traditions of generosity and hospitality.

These recipes have been in the family for generations and include rice dishes, curries, meats, dumplings, Afghan pastas, sweets, drinks, chutneys and pickles, soups and breads. Some are celebratory special dishes while most are day to day dishes. Each has a story to tell.

With beautiful food and location photography, this compilation offers valuable insights into the origins and heritage of Afghan cuisine and a fresh perspective to one of the oldest civilizations.