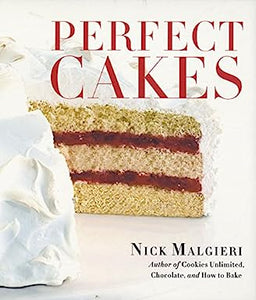 Perfect Cakes by Nick Malgieri
Regular price $16.00 Sale
Hardcover
When it's time to celebrate, it's time to bake a cake! When it's time to be creative, it's time to bake a cake! When it's time to find comfort in the kitchen, it's time to bake a cake. From weddings to birthdays to something nice for yourself and your family and guests, nothing marks a special occasion better than a freshly baked cake.
Now renowned baking teacher Nick Malgieri, author of Cookies Unlimited, Chocolate, and How to Bake, shares his flawless recipes and professional techniques for creating a perfect cake every time. From simple to extravagant, the recipes are presented with the same clear, uncomplicated instructions that have made Nick a favorite among firsttime bakers and experts alike. You'll find more than two hundred recipes for all types of cakes, from homey favorites such as Sour Cream Coffee Cake and Classic Angel Food Cake to luscious classics such as Dark and White Chocolate Cheesecake to international showstoppers such as Zuppa Inglese and Chocolate Raspberry Bûche de Noël. Nick shows how to get the best results every time you bake, ensuring that your cheesecake will never crack, your pound cake batter will never separate, and your génoise will always be tender and light.
When the time comes to decorate or fill your cake, there's a wealth of creative ideas, from working with marzipan to piping icing to flavoring ganache and buttercream. Also included are tips on selecting the most flavorful chocolates, fruits, liqueurs, and other ingredients. Tempting color photographs throughout the book will inspire anyone to head into the kitchen. Novice bakers will be reassured and experts challenged with Perfect Cakes, a comprehensive collection of perfect recipes and expert guidance.