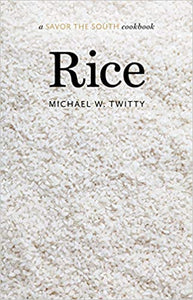 Rice: a Savor the South cookbook (Savor the South Cookbooks) by Michael W. Twitty
Regular price $20.00 Sale
Hardcover

Among the staple foods most welcomed on southern tables—and on tables around the world—rice is without question the most versatile. As Michael W. Twitty observes, depending on regional tastes, rice may be enjoyed at breakfast, lunch, and dinner; as main dish, side dish, and snack; in dishes savory and sweet. Filling and delicious, rice comes in numerous botanical varieties and offers a vast range of scents, tastes, and textures depending on how it is cooked. In some dishes, it is crunchingly crispy; in others, soothingly smooth; in still others, somewhere right in between. Commingled or paired with other foods, rice is indispensable to the foodways of the South.

As Twitty's fifty-one recipes deliciously demonstrate, rice stars in Creole, Acadian, soul food, Low Country, and Gulf Coast kitchens, as well as in the kitchens of cooks from around the world who are now at home in the South. Exploring rice's culinary history and African diasporic identity, Twitty shows how to make the southern classics as well as international dishes—everything from Savannah Rice Waffles to Ghanaian Crab Stew. As Twitty gratefully sums up, "Rice connects me to every other person, southern and global, who is nourished by rice's traditions and customs."

Michael Twitty is a culinary historian and author of the James Beard Award-winning The Cooking Gene: A Journey through African American Culinary History in the Old South.