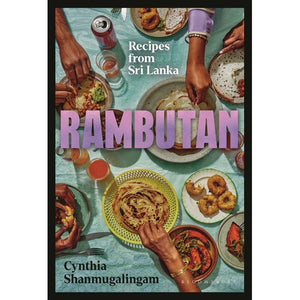 Rambutan: Recipes from Sri Lanka by Cynthia Shanmugalingam
Regular price $35.00 Sale
Hardcover
More than 80 lush Sri Lankan recipes for fresh dinners, cold drinks, and sticky sweets that prove small islands can bring big flavors.
Since Cynthia Shanmugalingam was a young girl, she has worked to piece together her sense of Sri Lanka, her ancestral homeland that she experienced through the wondrous flavors of her immigrant parents' kitchen in London. In
Rambutan
, these ingredients, methods, and tastes-combining Javanese, Malay, Indian, Arab, Portuguese, Dutch and British influences-come together to create an irresistible portrait of modern Sri Lankan cuisine.
In more than 80 recipes, Shanmugalingam takes her favorite parts of the island's culinary tradition and adapts them to be accessible and fun for the home cook: with dinners of sticky chicken buriani and crunchy fried potatoes with turmeric, desserts of mango fluff pie and milk toffee, and drinks of lemongrass lime soda and boozy tea cocktails,
Rambutan
is designed to deliver as much edible Sri Lankan joy as possible. Combining luscious recipe photography and stunning candids from the island, this exuberant guide is perfect for home cooks looking to explore the exciting Sri Lankan tradition in South Asian cuisine.